Welcome to Fence Systems
The best custom iron in AZ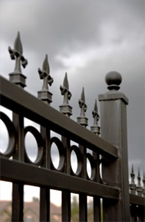 Fence Systems is a full-service fencing and gate manufacturer and contractor serving Arizona customers since 1994. We work together with our customers through all phases of a fencing or gate project, from concept and design to fabrication and installation. We manufacture and install all types of fencing, handrails, gates, and entry doors from the standard to the custom, hand-forged works of art.
Our world class fencing, gates and post accessories meet the highest standards of excellence for fence design, durability and functionality. We offer a complete line of high quality fence systems in both traditional and unique styles. Our full line of products include vinyl, ornamental, iron, and chain-link fences and gates for residential, commercial, industrial, and high security applications. Fence Systems can also install automated gate systems, including fully automated calling units and remotes.
Our offices and manufacturing facility are conveniently located in Mesa, AZ. We typically manufacture the final product, meaning we have the ability to custom design profiles to almost any size or application. We warranty all of our work and are fully licensed, bonded and insured. Please contact us for a free on-site estimate for your project.
You can call (480)507-7479 or use our convenient Contact Us page.
Fully Licensed & Insured Company
(C-14 Class ROC277738)
(L-14 Class ROC277739)
Member of the BBB
Free On-Site or Phone Estimates
2-Year Warranty on All Installations

Fence Systems is Arizona's authorized dealer for all of your Ameristar Fence products. If you are looking for a longer manufacturer warranty, Ameristar fence products is a great option.

Ameristar is the largest ornamental fence manufacturer in the world. They create the highest quality residential, commercial, industrial and high-end security fences available, and their 25 year warranty offers you the comfort and reassurance that your fence is going to last. Our partnership with Ameristar means that you get the highest quality products available, a competitive price, and a superior design and coating system that guarantees a significantly lower long-term cost.

Read More>>